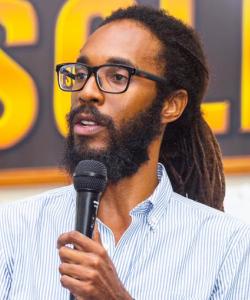 Researcher, Department of Life Sciences, UWI Mona
Machel A. Emanuel is a Researcher in the Department of Life Sciences at the University of the West Indies, Mona Campus, Jamaica. He received a Bachelor of Science in Zoology and Botany, a Master of Science in Plant Production and Protection and PhD in Botany from UWI, Jamaica. The title of his thesis was, "The biochemical and physiological modifications during ripening and storage of ackee Blighia sapida." His area of research is Crop Science with a focus on post-harvest of fresh tropical and subtropical fruits. He also an internationally certified (IFOAM) Organic Farm Inspector. In 2016 he received an award for best oral presentation at the 3rdAll African Horticultural Congress held in Ibadan, Nigeria.
Dr Emanuel is the Principle Investigator of the Life Science Cannabis Research Group in the Department of Life Sciences, University of the West Indies Mona Campus. His research team conducts research in the area of Tropical Horticulture for Cannabis sativa,its application, consistency, efficacy and quality assurance throughout the Cannabisvalue chain. He is the Vice-chair of the Bureau of Standards Jamaica Cannabis Technical Committee for the development of standards for the Jamaica Cannabis Industry. In 2015 he was the 2ndplace winner in the Best New Style Farming Category at the High Times World cannabis Cup held in Negril Jamaica.